Hyundai Santa Cruz: Smart Key / Unlocking your vehicle(When the Two Press Unlock feature is off)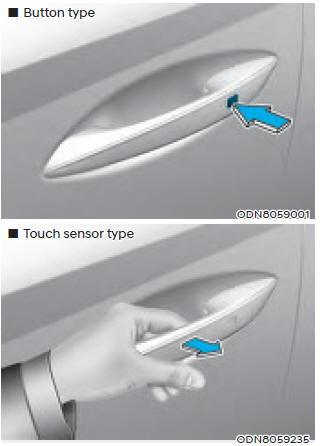 1. Make sure you have the smart key in your possession.
2. Press the Door Unlock button (2) on the smart key, press the button on the front door handle or touch the door unlock sensor inside of the front door handle to unlock the doors.
3. All of the doors will unlock. When thedoors unlock, the hazard warning lights will blink two times.
The door handle button will only operate when the smart key is within 28~40 inches (0.7~1 m) from the outside door handle.
If you do not open the door after unlocking within 30 seconds, it will return to the lock mode.
If you unlocked the door with the door handle, the doors cannot be locked with the sensor for up to 2 seconds.