Hyundai Santa Cruz: Trailer Towing / Trailer Towing Equipment
Hitches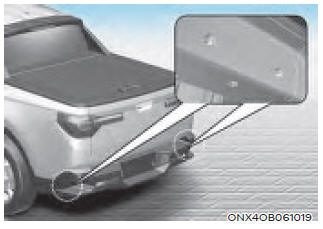 Information
The mounting hole for hitches are located on both sides of the underbody behind the rear tires.
It's important to have the correct hitch equipment. Crosswinds, large trucks going by, and rough roads are a few reasons why you'll need the right hitch. Here are some rules to follow:
Do you have to make any holes in the body of your vehicle when you install a trailer hitch? If you do, then be sure to seal the holes later when you remove the hitch. If you don't seal them, carbon monoxide (CO) from your exhaust can get into your vehicle, as well as dirt and water.
The bumpers on your vehicle are not intended for hitches. Do not attach rental hitches or other bumper-type hitches to them. Use only a framemounted hitch that does not attach to the bumper.
Any part of the rear number plate or lighting devices of the vehicle must not be obscured by the mechanical coupling device.
If the rear number plate and/or lighting devices can be obscured partially by any part of the mechanical coupling device, mechanical coupling devices that can not be easily removed or repositioned without use of any tools, except an easily operated (for example, an effort not exceeding 20Nm) release key which is supplied by the manufacturer of the coupling device, are not permitted for use.
Please note that the mechanical coupling device that is fitted and not in use must always be removed or repositioned if the rear number plate and/or rear lighting devices are obscured by any part of the mechanical coupling device.
A HYUNDAI trailer hitch accessory is available at an authorized HYUNDAI dealer.
CAUTION
If a separate battery is installed on the trailer, the 12 volt battery on the vehicle may discharge.
Safety chains
You should always attach chains between your vehicle and your trailer. Instructions about safety chains may be provided by the hitch manufacturer or trailer manufacturer. Follow the manufacturer's recommendation for attaching safety chains. Always leave just enough slack so you can turn with your trailer. And, never allow safety chains to drag on the ground.
Trailer brakes
If your trailer is equipped with a braking system, make sure it conforms to your country's regulations and that it is properly installed and operating correctly.
If your trailer weighs more than the maximum trailer weight without trailer brakes loaded, then it needs its own brakes and they must be adequate. Be sure to read and follow the instructions for the trailer brakes so you'll be able to install, adjust and maintain them properly. Be sure not to modify your vehicle's brake system.
WARNING
Do not use a trailer with its own brakes unless you are absolutely certain that you have properly set up the brake system. This is not a task for amateurs. Use an experienced, competent trailer shop for this work.