Hyundai Santa Cruz: Rear Seats / Unfolding the rear seat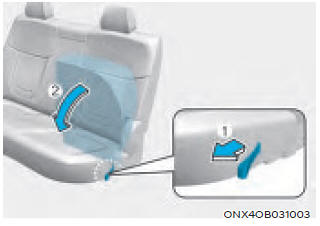 1. Pull the strap to unlock the seat.
2. Carefully lower the seat bottom to the normal seating position. The seat bottom will remain in place under its own weight.
WARNING
Make sure the engine is off, the shift lever is in P (Park), and the parking brake is securely applied whenever loading or unloading cargo. Failure to take these steps may allow the vehicle to move if the shift lever is inadvertently moved to another position.
CAUTION
Be careful when loading cargo through the rear passenger seats to prevent damage to the vehicle interior.
WARNING
Cargo should always be secured to prevent it from being thrown about the vehicle in a collision and causing injury to the vehicle occupants. Do not place objects in the rear seats, since they cannot be properly secured and may hit the front seat occupants in a collision.