Hyundai Santa Cruz: Luggage Compartment Features / Sidewall Side Storage
Opening/Closing sidewall side storage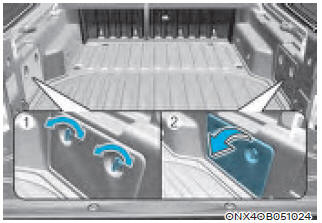 Turn the two knobs to open/close the lid
Power Outlet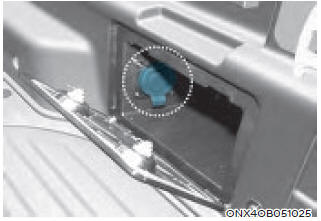 Power outlet is located in the passenger side sidewall side storage bin.
To use the power outlet
1. Turn the two knobs to the left to open the lid.
2. Open the cover and plug in the appliance slightly.
CAUTION
Do not use the power outlet for electrical appliances that require high initial peak wattage, such as cathode-ray tube type televisions, refrigerators, electric pumps, etc. It is not suitable for devices that process precise data, such as medical equipment, and that require an extremely stable power supply, such as microcomputer-controlled electric blankets, touch sensor lamps, etc.
When the power outlet is not in use, close the cover to prevent any small foreign objects from getting into the power outlet.
WARNING
Continued use of any electrical appliance/device exceeding these ratings may result in damage to the appliance/device.
Make sure that no moisture is trapped in a bin when closed to prevent mold growth.